1.Overview
IS type pump is a single-stage single suction centrifugal pump (axial suction), suitable for the industry and the city drainage and agricultural irrigation. For conveying water and physical and chemical properties similar to clear water under 80℃
IS type pump series performance range (by design point)
speed:2900r/min
low:6.3-400m3/h
head:5-125m
Inlet diameter:50-200mm
2.Structure description
Pump body and pump cover to form the pump impeller, shaft and rolling bearings and other components of the pump rotor components, the suspension of the pump to support the rotor parts, rolling bearings to bear the pump axial and radial force.
In order to avoid shaft wear in the pump through the packing cavity part is provided with a shaft sleeve, so as to protect the shaft between the shaft and the shaft is equipped with a "O" type sealing ring, to prevent the surface along the axis Water Leakage or intake.
In order to balance the axial force of the impeller, pump the most before and after is provided with a sealing ring, and a balance hole in the impeller hub, the axial force is not the case, the back surface of the impeller without sealing rings and balance holes.
The transmission model of the pump is connected with the motor through an elastic coupling. The direction of rotation of the pump, from the driver side, for the clockwise rotation, the pump is applied to the 50HZ, but also for the use of 60HZ power area.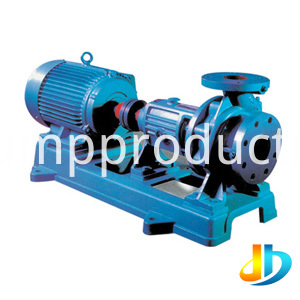 Product Categories : Chemical Pump